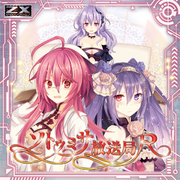 Z/X NF Drama CD 3 - SotuMisa Broadcasting Station R (ソトゥミサ放送局 R Sotumisa Hōsōkyoku R) is the third of Z/X drama CD series. It was first released in Akihabara Z/X Stream 2015 Spring event on 22 February 2015.
The drama part is based on the popular spin off project, "SotuMisa Broadcasting Station", with Honome Chogasaki and her Partner Z/X, Kalavinka as the special guests.
Track Listing
SotuMisa Broadcasting Station R (drama part)
Keeping the Faith
Song: Honome & Kalavinka
Casts
Promotional Cards
The CD contains the following promotional cards.
External Links
Ad blocker interference detected!
Wikia is a free-to-use site that makes money from advertising. We have a modified experience for viewers using ad blockers

Wikia is not accessible if you've made further modifications. Remove the custom ad blocker rule(s) and the page will load as expected.