Backstory
Prologue
The not-too-distant future. Gateways to other worlds suddenly appeared in five locations around the world (call the Black Points). Immediately after the gates opened, there was an invasion by the variant creatures from each of the gates.
Locations
These are the locations of the gates in relation to Japan. Each area has a corresponding world, characters, events and PRs associated with it.
| World | Area |
| --- | --- |
| Green | Hokkaido/Tohoku(北海道・東北) |
| Black | Kanto(関東) |
| Blue | Chubu/Hokuriku(中部・北陸) |
| White | Kinki/Shikoku(近畿・四国) |
| Red | Chugoku/Kyushu(中国・九州) |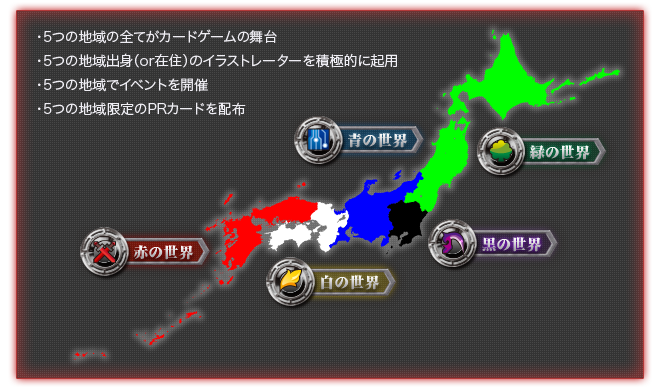 World & Character stories
Black
White
Green
Red
Blue
Ad blocker interference detected!
Wikia is a free-to-use site that makes money from advertising. We have a modified experience for viewers using ad blockers

Wikia is not accessible if you've made further modifications. Remove the custom ad blocker rule(s) and the page will load as expected.